Maddie/Denise to The Europeans!
By winning game two and three in a best-out-of three qualification finale against team Nielsen from Hvidovre, Denise and Maddie together with Team TCC, are now ready for The Europeans and furthermore are they hereby qualified as competitors for Denmark at the Olympic tournament in 2010. What a great achievement for the Worlds 2006 runners-up!
---
Oliver ready for Europeans?
Oliver Dupont together with Team Stjerne have qualified for the finals in the Danish qualification for the Europeans Curling Chamionship in December. The finals will take place next weekend in Hvidovre. Maddie and Denise have still two games to win to get qualified, but the chance are at large for sure.
---
Next generation warm up!
On Friday 30th, shortly after noon, Denise gave birth to the most wonderfull little girl – weight 3640 g. and length 51 cm. Team TCC´s fourth and sister Madeleine, was with her sister all the way – just like the dad Ulrik Dam. Lets she how long it takes before the next generation of Dupont curlers gets her first pair of shoes for the ice!
---
Maddie and Denise celebrated!
Together with their Team TCC, Maddie and Denise was celebrated on thursday 8th May, as the team won the annual local community price for best sporting result in 2007. The price was handed over by major Henrik Zinimo in appriciation of the silver medals they won at Aomori in March 2007. Along with the price, a medal was handed over, followed by a moneyprice and beautifull flowers. Thereafter the mayor invited to dinner at the town hall – a very nice spring-evening in deed!
---
Denmark ended up 5th!
At this years world championship, Denise and Maddie togther with thir Team TCC, ended up on a 5th place – loosing the tiebreak-game agains a very well playing japanese team.
Denmark is now second in collecting Olympic point in the womens tournament, only Canada has more. Denmark is therefore for sure to find in Vancouver 2010, and with 99.9% chance for Maddie and Denise, their are on the team! It will be Maddies first olympic experience and Denise´s second, as she played vice-skip in Torino 2006.
---
Maddie and Denise Danish Champions!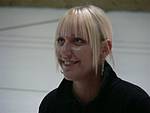 By winning the third final game against Lene Nielsen from Hvidovre, Denise and Maddie secured their team the Danish Championship in curling and are now representing Denmark at The World Womens Curling Championships in Vernon, B.C., Canada in March.
Lene Nielsen won the first best-out-of-three games – played in her home rink in Hvidovre south of Copenhagen and probably candidate for the Women Worlds in 2011 – but lost the second. A third final game had to be played and Maddie and Co. stole in three ends in a row, leading 8-5 before last end and with last rock – a chance they didn´t miss!
Congratulations to Team TCC – winning the title for third year in a row.
---
Madeleine no.5 at the World Juniors
Madeleine and her Danish team of sparkling girls came 5th at the World Junior Championships, held in Ôstersund in the northern part of Sweeden.
In a breathtaking tiebreak battle against Canada, Madeleine & Co had last stone in 10th – and veteran Maddie had to make a double for the win, but unfortunately, it passed right through the two canadians, leaving a steel of three to the canadian girls, whom later got welldeserved bronze-medals, by beating the russians – have a nice trip home, Olga!
Maddie and her grown-up team of women including her big sister (pregnant in 7th month!) are going to Canada on monday on a training camp – just before the womens worlds, in Vernon, is taking place – good luck to the girls, who got silver last year. Eurosport are showing their game against Sweeden on thursday 27th at 10 in the evening.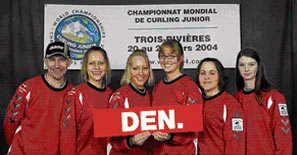 ---
Denise wins Nationals Mixed Double
Together with her boyfriend – Ulrik Damm – Denise Dupont won the Danish Mixed Double championships, by winning over Rasmus Stjerne and Maria Poulsen, in a thrilling final, played in Hvidovre on the 17th February.
Hereafter they are ready to represent Denmark at The World Mixed Double Championships, taking place in Vierumäki in Finaland in March, unless she wins The Danish Championships for women – then the tight curling scheduale won´t allow here to go to Finland.
Oliver and Madeleine lost the 1/4-final to the same wellplaying Rasmus and Maria – but the Dupont´s got revenge in the final 😉
---
Bronze at The Nordics!
Madeleine got the bronze medals at this years Nordic Junior Championships, held in Esbjerg on the westcoast of Denmark. She won the bronze medal game, togther with Jeanne, Ivana, Mona and Lisa, by winning with just one stone over Denmark 2, skipped by mette de Neergaard from Hvidovre.
Madeleine playing close to 100 percent in the bronze medal game, had to capture against Sweeden 2 in the semifinal, after loosing the first end 0-3. The team never really got over it and into the game. Sweeden 2, lost later on the final against Sweeden one skipped by Östlund – a team Maddie won against in her first game on friday.
Her fellow teammates did not perform their best in the weekend and they sure have to shappen up, going to The World Junior Championships in Östersund, Sweeden in March, in order to at least win their World junior bronze medals from last year back – maybe even get to the final. This year it´s Maddies last chance to go to World Junior Final – a stunning junior careear is coming to an end.
Your chance is now and here, you can find out how to pick up a reliable and trusted online casino at topratedonlinecasinos.org and have some more fun.